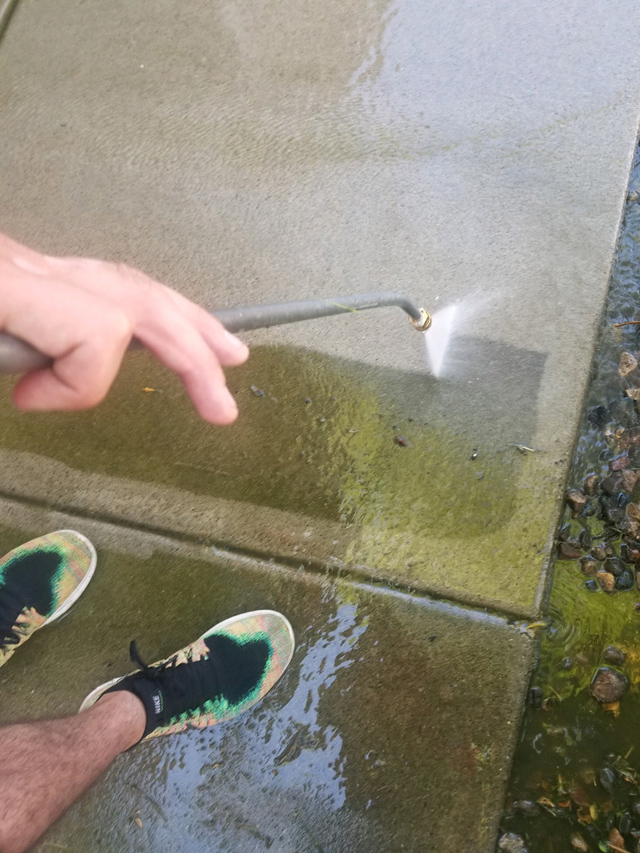 At Wayne's Home Service, We use a high-quality, commercial, and residential pressure washer system, with the added ability to use heated water and environmentally safe, commercial cleaning solvents. Various jets and extensions allow our equipment to safely and effectively clean even hard-to-reach places.
We can reduce water pressure intensity when needed to protect sensitive surfaces and focus the water pressure when we need maximum cleaning power. We understand every surface's needs, and we will work accordingly. Find out some of the benefits when requesting a pressure washing cleaning: 
Benefits of Power Washing Cleanings
It saves you money and time.
In rainy seasons, moisture takes place on your exteriors. It leads to damages such as crevices and stains. The grime arises from mold, mildew, or algae on crevices, removing your paint and making it look nasty. 
Wayne´s Home Service Pressure Washing team is ready to overcome the grime, mold, or mildew before it is too late for your property's surface. We will eliminate any possible chance of wasting money and time on other procedures such as replacements or paintings. 
Without the appropriate cleaning in your home's exteriors for long times, those mildew, mold, dust, and other debris can also affect the health of people living or working in the property, as well as pets. 
Our pressure washing services in Minneapolis keep you from getting illnesses such as allergies, coughing, sneezing, watery eyes, or even asthma. It will take away bacteria, allergens, or pollen from your exteriors. A clean surface equals a healthy environment for your people. 
What Spaces Do We Power Wash?  
By one visiting we will analyze the place, understand their needs, and proceed with our methods. Do not worry; we know which places not to power wash and the ones we can renew with our procedures, such as:  
Sidings 
Exteriors
Decks 
Fences
Walkways 
Patios
Driveways
Our Superior Pressure Washing Options:
High-powered, cold-water pressure wash
High-powered, hot-water pressure wash (hot water source required)
Pressure wash + environmentally safe cleaning solvent
Low-pressure washing + hand scrubbing
Book a Power Washing Service For Your Properties! 
Stop looking for "pressure washing near me". At Wayne's Home Service we offer professional pressure washing services to commercials and residential properties in all the Western Twin Cities area. You can first get a quote from us or call us to book your cleaning service. We will be pleased to make your home a complete makeover with our amazing power washing systems.
Wayne's Home Services offers effective power washing services in the Lake Minnetonka Area, and in other surrounding areas. Call our team today!
Get a Free Quote on Power Washing