Windows are an important element in our commercial or residential properties. Besides letting natural light penetrate our interiors, it also protects and improves the property's curb appeal. Having clean windows provides an overall clean look of the property and reflects that the property is in good condition.
That's why Wayne's Home Service offers professional window cleaning services for commercial and residential properties based in Minneapolis and Waconia, MN. We use the latest techniques and products to ensure our professional team of window cleaners provides the highest quality window cleaning services to property owners.
---
Wayne's Complete Window Cleaning Services
No matter the scope of your cleaning needs, Wayne's Home Services got you covered. We offer complete window cleaning services that include cleaning the exterior and interior. We use environmentally safe cleaning products to prevent any damage to your glass during our cleaning service and protect your property's environment.
Here at Wayne's Home, we offer the best exterior cleaning solutions, including the best window cleaning services and packages for residential and commercial properties such as homes, apartment buildings, office buildings, and investment properties.
Wayne's Home Services will make sure that your windows will always remain top-notch. Our team of experts will:
Clean entire exterior pane of glass
Clean storm windows and screens
Wipe down windows' frame
Wipe down jambs and hardware
---
Benefits of Window Washing Services
Besides letting natural light into your home, you can get so many important health benefits with professional window washing services in Minnesota.
Eliminate unhealthy mold from your home
Decrease allergens in your home
Prevent Pests
Avoid danger that accompanies broken windows
Extend your windows lifetime
Enhance your property's appearance
---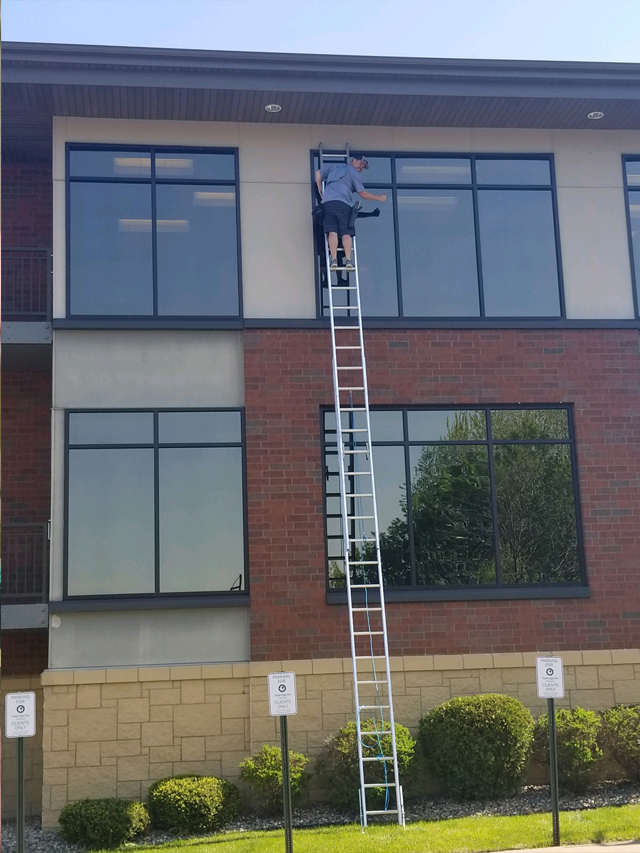 We Offer Commercial & Residential Window Cleaning Services
Wayne's Home Services offer Window Cleaning Services to both Residential & Commercial property owners. We specialize in homes, apartment buildings, office buildings and investment properties.
 We specialize in hard-to-reach windows.
We use only the most up to date techniques, products, and procedures when completing our window cleaning process. We are a trusted, local, and experienced Window Cleaning Company in Minneapolis.
TIP: Counting & Measuring Your Windows
Pricing packages for Window Cleaning services will depend on the number of windows, their size, type, and location. Before we can put together a quote, you will need to obtain some info.
---
Wayne's Home Service: Your best choice for window cleaning services in Minneapolis and Waconia, MN
Have you been looking for" window washing near me"? Then you are in the right place. With many years of experience, Wayne's Home Services is a professional, local and experienced company based in Minneapolis that offers cleaning services such as window cleaning and pressure washing services in Minneapolis. Let professional window cleaners protect your property with our professional and top-quality window cleaning process for commercial and residential properties.
Service Area
Wayne's Home Services offers window cleaning and washing services in Lake Minnetonka area, and in other surrounding areas. Give us a call today!